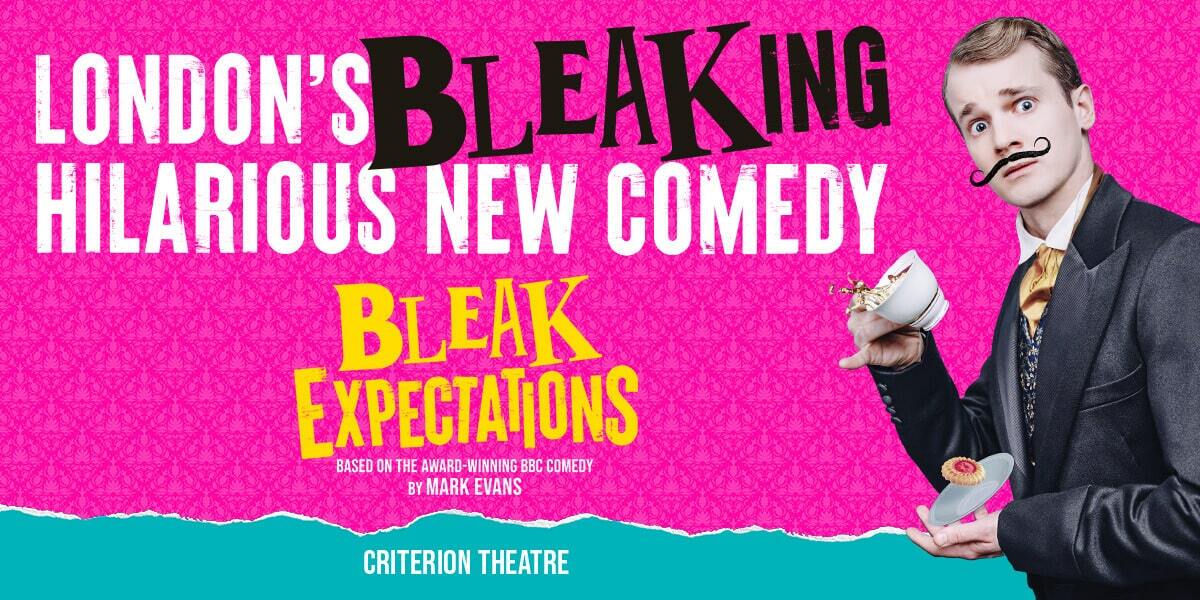 Criterion Theatre, London
Dickens' tropes are exaggerated to a hilarious and absurd level in Bleak Expectations!
Tickets for Bleak Expectations are available now!
Based on the hit BBC Radio 4 comedy by Mark Evans this brand-new stage adaption portrays the story that Charles Dickens may have written after one too many gins… and of course, if he'd have lived for another 152 years! Bleak Expectations has captivated audiences and critics alike since its debut in 2007 and is the two-time winner of the Best Radio Sitcom Award. Taking all of Dickens' tropes and exaggerating them to a hilarious and absurd level, Bleak Expectations at the Criterion Theatre is a unique show not to be missed. Book your tickets today so that you don't miss out on this limited season!
About Bleak Expectations 
Brace yourself for this chaotic caper through Dickensian London with tragic, half-orphan young Pip Bin, hopeless romantic and would-be-hero. Experience the adventure of Pip's remarkable escapades with his sisters Pippa and Poppy and their best friend Harry Biscuit as they attempt to escape the evil clutches of Mr Gently Benevolent, defeat the irrepressible Hard thrasher siblings and avert disaster at every turn. Will evil be thwarted by virtue? Can love triumph over hate?
The cast and creatives of Bleak Expectations 
Join a variety of beloved faces including Tom Allen, Adjoa Andoh, Alexander Armstrong, Jo Brand, Jack Dee, Stephen Fry, Nish Kumar, Lee Mack, Stephen Mangan, Ben Miller and Sue Perkins, (not all at once, don't be greedy!). These guest stars will each take a turn as the narrator in this irresistible stage adaptation of the award-winning comedy series. Looking to see a particular face? Take a look at the guest star schedule below before you purchase your tickets!
3- 7 May: Nina Wadia
9-14 May: Dermot O'Leary
16-21 May: Sally Philips
30 May - 4 June: Sue Perkins
6-11 June: Julian Clary
13-18 June: Adjoa Andoh
27 June - 2 July: Lee Mack
4-9 July: Stephen Mangan
11-16 July: Jo Brand
18-23 July: Tom Allen
25 – 30 July: Jack Dee
1-6 August: Alexander Armstrong
8-13 August: Stephen Fry
15-20 August: Ben Miller
29 August - 3 September: Nish Kumar
Bleak Expectations is created by Mark Evans. Mark Evans is a Welsh comedy writer, director and actor. His most notable work was for Mitchell and Webb's radio show That Mitchell and Webb Sound and its award-winning television adaptation That Mitchell and Webb Look.
Regarded by many as the greatest novelist of the Victorian era Charles Dickens, created some of the world's best-known fictional characters in well over well over a dozen major novels, novellas and a large number of short stories. 
Bleak Expectations tickets are available now!
This joyful, tumultuous comedy features hideous boarding schools, dastardly plans, devilish disguises, romances, death scenes and most definitely a happy ending. Book your tickets for Bleak Expectations today!
Age restriction
This production is suitable for ages 10+
Running time
2 hours 15 mins including an interval.
Performance dates
3 May 2023 - 3 September 2023.
Special notes
The producers cannot guarantee the appearance of any particular artist at any performance, as this is subject to a variety of factors including illness, injury, or events beyond the producers' control. No refunds or exchanges will be offered as a result of an artist's unavailability to perform at any performance. Take a look at the guest star schedule before you purchase your tickets!