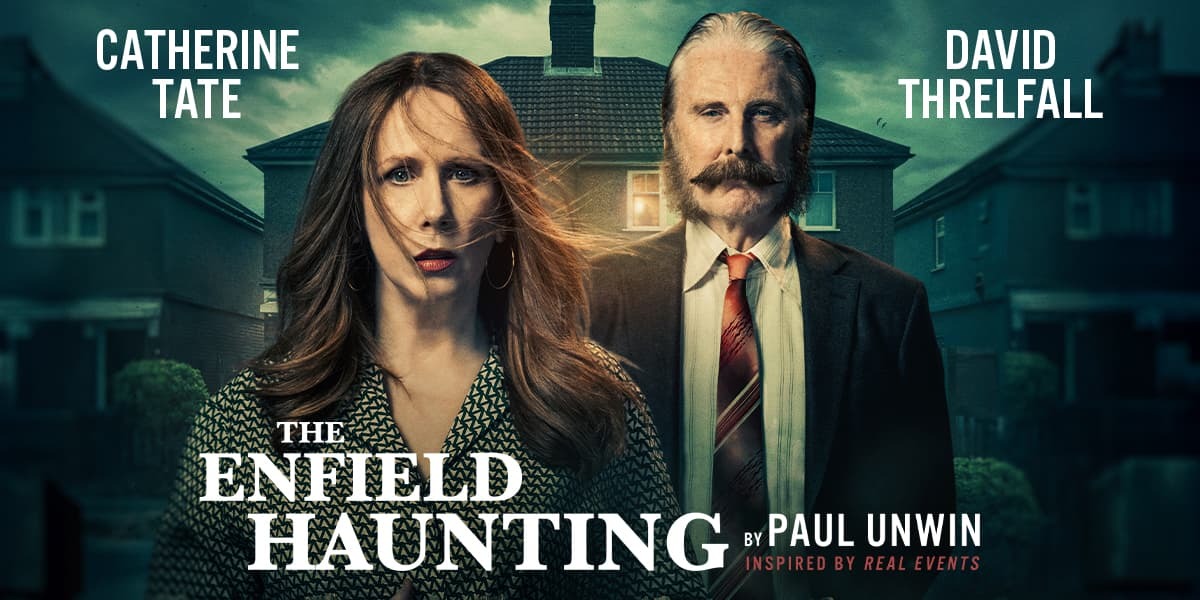 Ambassadors Theatre, London
The Enfield Haunting is bringing an insidious spirit to The Ambassadors Theatre...
Tickets for The Enfield Haunting are available now! 
In 1977, a series of harrowing events transpired at 284 Green Street, where a single mother battled against an insidious force to protect her three children.
The Enfield Haunting is a spine-tingling first-hand account of one of the ghost hunters who ventured into the house and saw the unimaginable. Inspired by a case that gave the world nightmares, The Enfield Haunting is bringing its horrifying climax to The Ambassadors Theatre...are you brave enough to face the lurking terrors that await? Book your tickets now!
What is The Enfield Haunting about?
It began in the summer of 1977 when Peggy's children started to complain of eerie footsteps creeping through the darkness. Toys and furniture started moving of their own accord. The Hodgson family had no idea what a poltergeist was, let alone that they were being stalked by one.
The Enfield Haunting follows one of the most well-known poltergeist incidents that ever took place in a north London council home, where a regular working-class family resided. This is the account of a particular evening in the spring of 1978, just as things were about to come to a horrifying climax. 
The cast and creatives of The Enfield Haunting 
The Enfield Haunting is set to star British icon Catherine Tate (Dr Who, Queen of Oz) and David Threlfall(Funny Woman, Shameless) in the major world premiere of Paul Unwin's new play (co-creator of Casualty, the world's longest-running medical drama).
The Enfield Haunting tickets are available now!
Discover a story of suffocating dread, one so disturbing that it has has since been adapted into a major motion picture by The Conjuring series and has captured the attention of the media. The story of The Enfield Haunting is sure to haunt you...book your tickets today!
Age restriction
This production is suitable for ages 8+.
Running time
100 minutes (no interval).
Performance dates
30th November 2023 - 2 March 2024
Special Offer
The Enfield Haunting Ticket Offer Details
SAVE ON TICKET PRICES Valid Monday - Friday performances 4 December 2023 - 9 February 2024 and Saturday 23 December Excluding 27 - 29 December Book by 12 December 2023
Upcoming Performance Times
Friday

1 December 2023

Saturday

2 December 2023

Saturday

2 December 2023

Monday

4 December 2023

Tuesday

5 December 2023

Thursday

7 December 2023

Thursday

7 December 2023
Performance Months
Jump directly to a month to select a performance
Ambassadors Theatre Safety Policy
Health & safety measures
Paperless or print at home tickets
Visitor measures
Cash free venue - contactless payments only