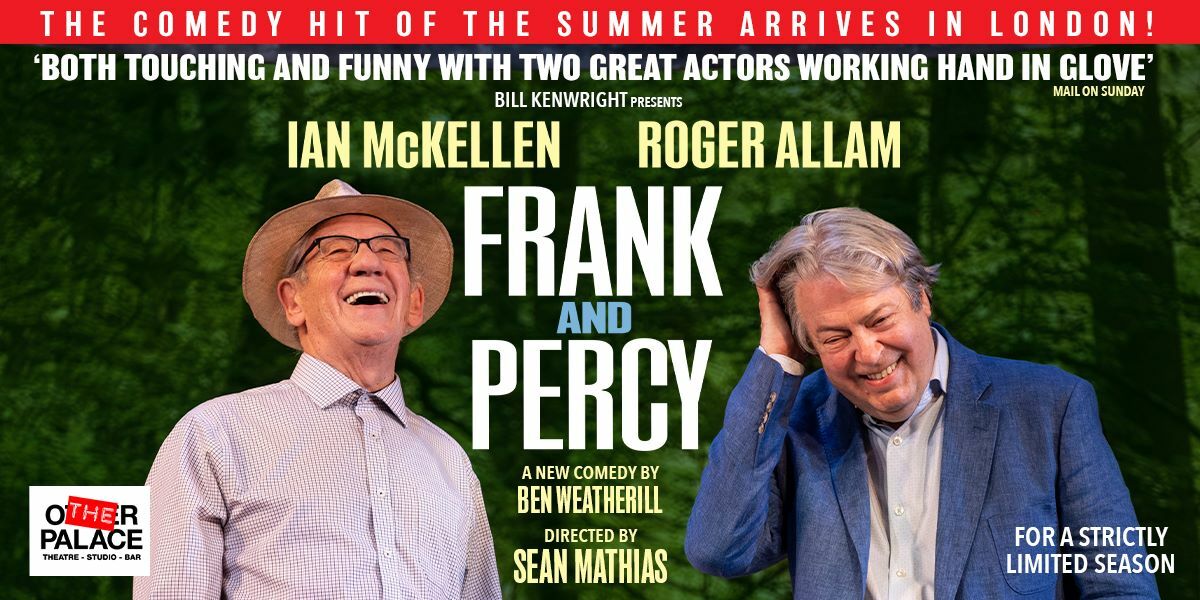 Ian McKellen and Roger Allam star in the comedy hit of the summer, Frank and Percy
Frank and Percy at The Other Palace - the new comedy hit of the summer, get your tickets now!
Is the prospect of new love worth pursuing, or are some things best left in the park? Ben Weatherill's hilarious and heartfelt romance Frank and Percy is headed for a limited London season at The Other Palace, starring an incomparable duo of Ian McKellen and Roger Allam.
The production previously received a critically-acclaimed premiere and record-breaking run at the Theatre Royal Windsor and two sold-out weeks at Theatre Royal Bath. Book your tickets now! 
About Frank and Percy 
The ever-so witty and moving story of Frank and Percy explores an unexpected relationship between two men who love the simple things in life - such as a walk in the park with their canine companions. Frank and Percy believe that human connection is far more temperamental than the relationships we share with our furry friends, so they'd rather keep things simple, but as always, life has a funny way of throwing a spanner in the works (or in this case, a bone in the park).
As their dogs play together, Frank and Percy discuss everything from the weather to their shared interests, but can Frank, a widowed schoolteacher, and Percy, a somewhat radical elder statesman, both realise that new love can be worth taking risks for, or will they let the sleeping dogs lie?
The cast and creatives of Frank and Percy 
Ian McKellen plays Percy, whilst Roger Allam plays Frank. 
Ian McKellen is one of the world's most renowned stage and screen actors and is the winner of a Tony Award and six Olivier Awards. His recent theatre credits include Hamlet and The Cherry Orchard. Following his performance as Gandalf in the Lord of the Rings, McKellen shot to global fame and became one of the world's biggest film stars, but in spite of that and his further iconic screen performances in such box office hits as The X-Men Trilogy, he has never forsaken his first love - theatre.
Roger Allam's many starring appearances on stage, television, film and radio over the past three decades Les Misérables, Democracy, Boeing Boeing opposite Mark Rylance, as well as extensive work at the Royal Shakespeare Company (of which he is an associate artist), the National Theatre, Shakespeare's Globe and the West End; on television, Game of Thrones, The Thick Of It and many more. He has won three Olivier Awards.
Frank and Percy is written by up-and-coming playlist Ben Weatherill (Chicken Dust, Chronic) and is directed by Sean Mathias (No Man's Land).
Frank and Percy tickets are available now!
When these old boys strike up a conversation on the park bench, who knows what'll happen! Only time will tell, as will tickets to the stunning new comedy Frank and Percy!
Age restriction
This production is suitable for ages 14+
Running time
2 hours 15 minutes
Performance dates
8 September – 17 December 2023
Access
Signed performances: 4th October matinee and 17th November evening. Relaxed performance: 19th October evening.
Venue Information
Other Palace
12 Palace Street, London, SW1E 5JA
Customer
Reviews
45 reviews
4.8
Upcoming Performance Times
Tuesday

3 October 2023

Wednesday

4 October 2023

Wednesday

4 October 2023

Thursday

5 October 2023

Friday

6 October 2023

Saturday

7 October 2023

Saturday

7 October 2023
Performance Months
Jump directly to a month to select a performance