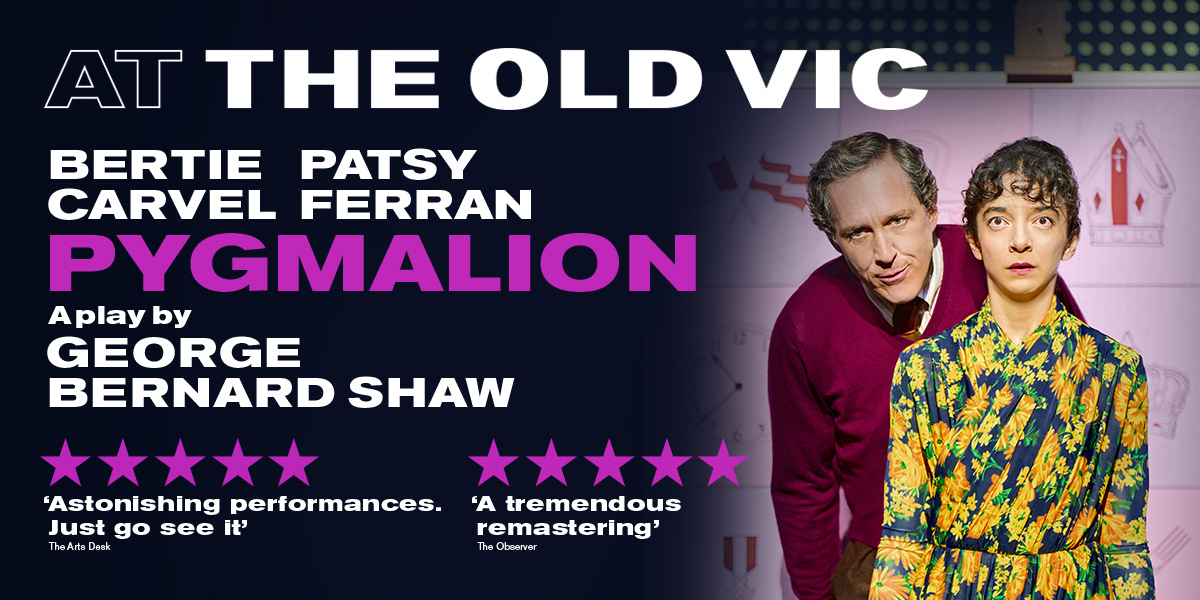 Pygmalion is a timeless tale of transformation, identity and the power of language!
Pygmalion tickets are available now!
Adapted from George Bernard Shaw's classic drama-comedy, the timeless story of Pygmalion is headed to the West End! Pygmalion is a witty and poignant exploration of class and gender and the transformative power of education - sign up today for priority access to Pygmalion at London's Old Vic!
The story of Pygmalion 
The play follows the story of Eliza Doolittle, a young woman from the streets of London who is taken under the wing of Henry Higgins, a phonetics professor determined to transform her into a refined lady of high society. As Eliza undergoes a gruelling and often humiliating process of education, she begins to challenge Higgins' assumptions about class and gender, and in doing so, discovers her own strength and agency.
The cast and creatives of Pygmalion 
Pygmalion at the Old Vic will be directed by Richard Jones, who has previously directed plays such as Endgame and Katya Kabanova. The production will star Bertie Carvel, known for his work in The 47th and The Crown, in the role of Professor Henry Higgins, an eccentric and self-centred linguist. 
Sharing the stage with him is Patsy Ferran, celebrated for her performances in A Streetcar Named Desire and Camp Siegfried, as the spirited Eliza Doolittle, a flower girl from Covent Garden with big dreams. This highly anticipated play sees the Olivier Award-winning duo return to The Old Vic to portray the beloved characters in this timeless tale of transformation, identity, and the power of language.
Pygmalion tickets are available now!
Join Professor Henry Higgins and Eliza Doolittle as they navigate their changing relationship and struggle to find their place in a society that values conformity over authenticity. Book tickets for the stunning Pygmalion today!
Age restriction
This production is suitable for ages 12+
Running time
To be confirmed.
Performance dates
06 September 2023 - 28 October 2023
Access
Audio Described: Mon 16 Oct 7.30pm Captioned: Fri 13 Oct 7:30pm Relaxed: Sat 14 Oct 2:30pm. BSL performance: 20 October at 7.30 pm
Special Offer
Pygmalion Ticket Offer Details
SAVE ON TICKET PRICES Valid all performances 29 September - 13 October 2023. Book by 6 October 2023.